Upcoming Projects
Film: HBO'S Fahrenheit 451
playing The Historian
Status: Post-Production

..........................................................
Film: Valley of the Gods
playing Ulim
Status: Pre-Production

..........................................................
Film: The Path
playing Stephen Meyer
Status: Return 25 January 2017

..........................................................
Film: April Flowers
playing Mr. X
Year: 2015
Status: Completed

..........................................................
Partner Site
Keir Dullea Appearances
Ex Libris/My Library





For my full collective, please go [ HERE ]
Affiliates
Meta
Fan Listing
Linkback
To use, please right click then choose save picture as on a PC, or drag and drop or right-click (if you've got a two-button mouse) or Ctrl-click (hold down the "Ctrl" key and then click) on the image and then select "Save Image to Desktop" on a MAC. This site does not allow hotlinking.








FOR MORE SELECTIONS, CLICK [ HERE ]
Site Info/Disclaimer/Donate
ODYSSEY ~ KEIR DULLEA ONLINE @ keirdullea.org
is a website dedicated to the work of American actor Keir Dullea. I am in no way affiliated with his person, his management, nor his family. All content, except otherwise noted, is copyrighted to their original owners and no infringement is intended and no rights implied. Content contained within are subject to
fair use
and used here either in whole or in part as a commentary on the work and career of Keir Dullea.
Keir and Mia are in rehearsals for a production of the play ON GOLDEN POND to be performed in a limited run from late July to early August. If anyone is able to go see this, please feel free to leave a comment on how awesome Keir and Mia are. The information is in the article to follow with some photos from the rehearsal featuring Keir and Mia.
[015] REHEARSAL PHOTOS: ON GOLDEN POND
Photo Flash: In Rehearsal with Keir Dullea and Mia Dillon for ON GOLDEN POND at Bucks County Playhouse

The real-life acting couple Keir Dullea (2001: A SPACE ODYSSEY) and Mia Dillon (CRIMES OF THE HEART, Broadway original cast) will be joined by actors Todd Cerveris, Cameron Clifford, Don Noble and Christa Scott-Reed in the BUCKS COUNTY PLAYHOUSE production of Ernest Thompson's comedy ON GOLDEN POND, running July 10 to August 2, at the Playhouse, located at 70 S. Main Street in New Hope, Pa. Dullea and Dillon portray the long-time married couple Norman and Ethel Thayer as they spend the summer on their lakeside cottage in Maine. Mr. Dullea and Miss Dillon have themselves been married for 16 years. BroadwayWorld has a sneak peek at the cast in rehearsal below!

ON GOLDEN POND is directed by Jonathan Silverstein, who recently directed the acclaimed Off-Broadway productions of the musical JOHN & JEN, the hit THE TEMPERAMENTALS and A WALK IN THE WOODS starring Kathleen Chalfant.

Keir Dullea has appeared in more than 25 feature films since 1957 including DAVID AND LISA (Golden Globe Award for "New Star of the Year"); 2001: A SPACE ODYSSEY; MADAM X opposite Lana Turner; and BUNNY LAKE IS MISSING with Sir Laurence Olivier. His Broadway roles include in CAT ON A HOT TIN ROOF, BUTTERFLIES ARE FREE and P.S. YOUR CAT IS DEAD. Upcoming films include: ISN'T IT DELICIOUS and as Mark Ruffalo's father in INFINITELY POLAR BEAR.

Mia Dillon has appeared on Broadway in OUR TOWN, THE MISER, HAY FEVER, CRIMES OF THE HEART (Tony Award nomination), AGNES OF GOD, THE CORN IS GREEN, ONCE A CATHOLIC and DA. Film and TV credits include GODS & GENERALS, A SHOCK TO THE SYSTEM, THE MONEY PIT, TERMS OF ENDEARMENT and a recurring role on THE JURY.

Scenic design for ON GOLDEN POND is by Steven C. Kemp; costume design by Jennifer Paar; lighting design by Gina Scherr; and original music and sound design by Obadiah Eaves.
SOURCE
Filed Under: CHARACTERS, KEIR DULLEA, Mia Dillon, Norman Thayer Jr., On Golden Pond, THEATRE, THEATRE
May.
30th,
2015

Happy 79th Birthday Keir

Posted By: keir dullea online | 2 Comments
On behalf of ODYSSEY, I'd like to wish Keir the happiest of birthdays. He turns a ripe and spry 79 today and it is my deepest wish for a day full of happiness and joy. Here's to a huge cake, a vintage bottle of wine and the love of family and friends.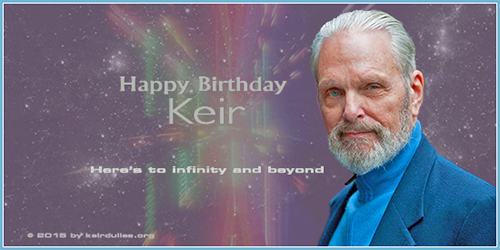 Filed Under: KEIR DULLEA, Mia Dillon, ODYSSEY
Keir will be taking part in a film festival in their hometown of Fairfield with the screening of three films, among them will be ALL ME ALL THE TIME and Keir's screen debut from 1961 HOODLUM PRIEST. Information below.
Theatre Artists Workshop 2015 Film Festival

Theatre Artists Workshop will screen four award-winning Connecticut-based films in its second annual TAW Film Festival the weekend of March 20th through 22nd. Reprising last year's successful format, the festival will give audiences the opportunity to interact with the filmmakers in a talkback after each screening. A donation of $10 is suggested for each show, or $20 for a weekend pass. No reservations are necessary. Popcorn will be sold!

On Friday night, March 20, at 8 PM, screenwriter Susan Cinoman hosts a screening of her films, "All Me All the Time" (2009, 75 minutes), and "Love and Class in Connecticut" (2007, 40 minutes). Directed by Ms. Cinoman's husband, Doug Tenaglia, and starring TAW actors Mia Dillon, Keir Dullea, and Sachi Parker, "All Me" is about two girls partying wildly on the night of their high school graduation while their parents marriages unravel. "Love and Class" stars TAW actors Joanna Keylock, Carol Schweid, and Bill Phillips, and was also directed by Doug Tenaglia. The film, about the arrival of the uninvited black sheep sister at a baby naming ceremony, won "Best Narrative" at the the New England Film and Video Festival and was a "Judge's Choice" at the Connecticut Film Festival.

On Saturday March 21st, at 8 PM, the Workshop's founding member, Keir Dullea, will host the a screening of "The Hoodlum Priest" (1961, 101 minutes), the film in which he made his debut portraying Billy Lee Jackson, a doomed, troubled youth. Based on the real-life Jesuit priest, Charles Clark, a minister to street gangs in 1959 Saint Louis, the film was directed by Irvin Kershner, and written by Joseph Landon and Don Murray. Winner of the OCIC Award at the Cannes Film Festival, 1961, "The Hoodlum Priest" was named to the National Board of Review USA Top Ten Films of 1961. Mr. Dullea later achieved fame as astronaut David Bowman in American Film Institute's #1 sci-fi film of all time, "2001: A Space Odyssey," directed by Stanley Kubrick.

On Sunday, March 22nd, at 3:00, Sachi Parker will host a viewing of "The Wicked Witch of the West is Dead" (2008, 115 minutes), a family drama with English subtitles about a troubled high school student sent to live in the country with her wise and "witchy" grandmother (Parker). Shot in Japan, directed by Shunichi Nagasaki and written by Kaho Nashiki and Kaori Mizushima, the film was an award winner at the Mainichi Film Concours in 2009. Sachi's films include: "Back To The Future" (1985), "About Last Night" (1986), and "Peggy Sue Got Married" (1986). Sachi is also author, with Fred Stroppel, of "Lucky me: My Life With – with and without-My Mom, Shirley Maclaine", published in 2013.

The Theatre Artist's Workshop, founded over 30 years ago by Keir Dullea, has over one hundred members and is the only professional theatre of its kind in Connecticut. Each Monday night, Workshop actors, writers, and directors meet to put up scenes, audition pieces, and new written scripts to receive the support and critique of other members, develop new work, and hone the craft, and then several times a year share their talents in public performances, including the Film Festival; the upcoming Classic Night Reading of "The Man Who Came to Dinner" (Friday, April 24th and Sat. April 25th at 8 PM; Sunday April 26th at 3 PM), and the Spring Playwrights Festival, featuring new work by TAW playwrights (Friday May 29th and Sat. May 30th at 8 PM and Sunday May 31st at 3 PM).

Date: Friday and Saturday March 20th and 21st at 8 PM; Sunday, March 22nd , at 3 PM
Place: Theatre Artists Workshop, 5 Gregory Blvd., East Norwalk, CT.
Filed Under: All Me, All The Time, Billy Lee Jackson, CHARACTERS, FILM, FILMS, Jake, KEIR DULLEA, Mia Dillon, The Hoodlum Priest
Keir and Mia's film ALL ME, ALL THE TIME is available on Youtube. Please feel free to go over and view it there and leave a comment. A wonderful play written by Susan Cinoman and directed by Doug Tenaglia. The film is a study on marriage and what it takes to break it, which may not be much. The film also stars John Augustine, Janine Barris, Siri Baruc, and Sachi Parker. All in all a wonderful little film.
httpvh://youtu.be/Q1brUurvG1s
Filed Under: All Me, All The Time, CHARACTERS, FILMS, Jake, KEIR DULLEA, Mia Dillon, SHORTS
May.
21st,
2014

"All Me, All The Time" HD Screencaps

Posted By: keir dullea online | No Comments
I've finally been able to cap up Keir's scenes in the film short ALL ME, ALL THE TIME where Keir played the part of Jake. The film is about six adults who have their own thoughts on relationships. The film also starred Keir's wife Mia Dillon as Jake's wife Sharon. The film was written by Susan Cinoman. Thank you to Emily Nguyen for passing it on.
[936] SCREENCAPS: ALL ME, ALL THE TIME
Filed Under: All Me, All The Time, CHARACTERS, Jake, KEIR DULLEA, Mia Dillon, SHORTS