Upcoming Projects
Film: HBO'S Fahrenheit 451
playing The Historian
Status: Post-Production

..........................................................
Film: Valley of the Gods
playing Ulim
Status: Pre-Production

..........................................................
Film: The Path
playing Stephen Meyer
Status: Return 25 January 2017

..........................................................
Film: April Flowers
playing Mr. X
Year: 2015
Status: Completed

..........................................................
Partner Site
Keir Dullea Appearances
Ex Libris/My Library





For my full collective, please go [ HERE ]
Affiliates
Meta
Fan Listing
Linkback
To use, please right click then choose save picture as on a PC, or drag and drop or right-click (if you've got a two-button mouse) or Ctrl-click (hold down the "Ctrl" key and then click) on the image and then select "Save Image to Desktop" on a MAC. This site does not allow hotlinking.








FOR MORE SELECTIONS, CLICK [ HERE ]
Site Info/Disclaimer/Donate
ODYSSEY ~ KEIR DULLEA ONLINE @ keirdullea.org
is a website dedicated to the work of American actor Keir Dullea. I am in no way affiliated with his person, his management, nor his family. All content, except otherwise noted, is copyrighted to their original owners and no infringement is intended and no rights implied. Content contained within are subject to
fair use
and used here either in whole or in part as a commentary on the work and career of Keir Dullea.
May.
30th,
2015

Happy 79th Birthday Keir

Posted By: keir dullea online | 2 Comments
On behalf of ODYSSEY, I'd like to wish Keir the happiest of birthdays. He turns a ripe and spry 79 today and it is my deepest wish for a day full of happiness and joy. Here's to a huge cake, a vintage bottle of wine and the love of family and friends.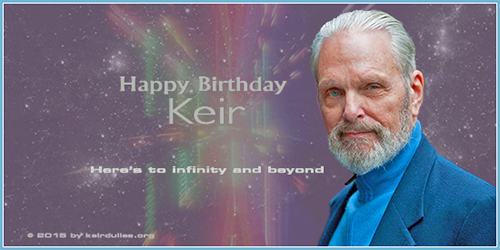 Filed Under: KEIR DULLEA, Mia Dillon, ODYSSEY
Mar.
18th,
2015

New Updates and Layout Coming Soon

Posted By: keir dullea online | No Comments
I'm currently working on a huge gallery update including stills from Keir's films, television work, stage and events from 1968 straight through to present. Those updates will be rolled out slowly so you can get a good look at what there is. Some of these photos are very rare finds and it has been my pleasure to collect them from various photo sources and bring them to you. I also have a new layout for both the main site and the gallery that will be up within the next two to three weeks, that is if I can finally get some things to work out. These images total about 500. I know compared to the amount of images in the gallery so far that figure might be somewhat low, however, a lot of these are rarities and are of a high resolution, unlike a lot of the screencaps from Keir's work that are in medium quality. So I'm hoping that you stay tuned.
Filed Under: KEIR DULLEA, ODYSSEY
Keir will be taking part in a film festival in their hometown of Fairfield with the screening of three films, among them will be ALL ME ALL THE TIME and Keir's screen debut from 1961 HOODLUM PRIEST. Information below.
Theatre Artists Workshop 2015 Film Festival

Theatre Artists Workshop will screen four award-winning Connecticut-based films in its second annual TAW Film Festival the weekend of March 20th through 22nd. Reprising last year's successful format, the festival will give audiences the opportunity to interact with the filmmakers in a talkback after each screening. A donation of $10 is suggested for each show, or $20 for a weekend pass. No reservations are necessary. Popcorn will be sold!

On Friday night, March 20, at 8 PM, screenwriter Susan Cinoman hosts a screening of her films, "All Me All the Time" (2009, 75 minutes), and "Love and Class in Connecticut" (2007, 40 minutes). Directed by Ms. Cinoman's husband, Doug Tenaglia, and starring TAW actors Mia Dillon, Keir Dullea, and Sachi Parker, "All Me" is about two girls partying wildly on the night of their high school graduation while their parents marriages unravel. "Love and Class" stars TAW actors Joanna Keylock, Carol Schweid, and Bill Phillips, and was also directed by Doug Tenaglia. The film, about the arrival of the uninvited black sheep sister at a baby naming ceremony, won "Best Narrative" at the the New England Film and Video Festival and was a "Judge's Choice" at the Connecticut Film Festival.

On Saturday March 21st, at 8 PM, the Workshop's founding member, Keir Dullea, will host the a screening of "The Hoodlum Priest" (1961, 101 minutes), the film in which he made his debut portraying Billy Lee Jackson, a doomed, troubled youth. Based on the real-life Jesuit priest, Charles Clark, a minister to street gangs in 1959 Saint Louis, the film was directed by Irvin Kershner, and written by Joseph Landon and Don Murray. Winner of the OCIC Award at the Cannes Film Festival, 1961, "The Hoodlum Priest" was named to the National Board of Review USA Top Ten Films of 1961. Mr. Dullea later achieved fame as astronaut David Bowman in American Film Institute's #1 sci-fi film of all time, "2001: A Space Odyssey," directed by Stanley Kubrick.

On Sunday, March 22nd, at 3:00, Sachi Parker will host a viewing of "The Wicked Witch of the West is Dead" (2008, 115 minutes), a family drama with English subtitles about a troubled high school student sent to live in the country with her wise and "witchy" grandmother (Parker). Shot in Japan, directed by Shunichi Nagasaki and written by Kaho Nashiki and Kaori Mizushima, the film was an award winner at the Mainichi Film Concours in 2009. Sachi's films include: "Back To The Future" (1985), "About Last Night" (1986), and "Peggy Sue Got Married" (1986). Sachi is also author, with Fred Stroppel, of "Lucky me: My Life With – with and without-My Mom, Shirley Maclaine", published in 2013.

The Theatre Artist's Workshop, founded over 30 years ago by Keir Dullea, has over one hundred members and is the only professional theatre of its kind in Connecticut. Each Monday night, Workshop actors, writers, and directors meet to put up scenes, audition pieces, and new written scripts to receive the support and critique of other members, develop new work, and hone the craft, and then several times a year share their talents in public performances, including the Film Festival; the upcoming Classic Night Reading of "The Man Who Came to Dinner" (Friday, April 24th and Sat. April 25th at 8 PM; Sunday April 26th at 3 PM), and the Spring Playwrights Festival, featuring new work by TAW playwrights (Friday May 29th and Sat. May 30th at 8 PM and Sunday May 31st at 3 PM).

Date: Friday and Saturday March 20th and 21st at 8 PM; Sunday, March 22nd , at 3 PM
Place: Theatre Artists Workshop, 5 Gregory Blvd., East Norwalk, CT.
Filed Under: All Me, All The Time, Billy Lee Jackson, CHARACTERS, FILM, FILMS, Jake, KEIR DULLEA, Mia Dillon, The Hoodlum Priest
Feb.
14th,
2015

Site Update Coming

Posted By: keir dullea online | No Comments
I know there haven't been any significant updates in the last little while, but I've had a whole host of computer issues where I thought I'd lost all my photo files. Fortunately that didn't happen or else I'd have to be committed to the nearest Happy Hilton. Yep, straightjacket and all. I'm in the process of creating a new layout. I'm also about to obtain over 100 images of Keir including event images, stills from some of his stage work, and a ton of stills from his various film projects…. That is if my source can come through for me…. I also have a lot of scans I've yet to add to the gallery. Please be patient as it will take me a bit of time to complete everything. Thanks for understanding and for continuing to visit. You'll be rewarded soon.
Filed Under: KEIR DULLEA, ODYSSEY
Jan.
26th,
2015

"2010: Odyssey Two" Podcast

Posted By: keir dullea online | No Comments
I'm not sure who these two are, but I found this podcast in my diligent interwebs searches and thought you'd like to give it a listen. My minor gripes with this podcast is the host and his guest's inability to pronounce Keir's name, it coming out as Keer Duleea. Does no one actually bother to try? They also fail to pronounce Roy Scheider's (Heywood Floyd) name either. They pronounce it as 'Schneider'. The thing I did like about this reassessment of the film is how the hosts call it "hard science fiction" in terms of how to treats both the genre and the issue of it not being what director Darren Aronofsky calls "trucks in space". Sure there is the issue of the Discovery and the Leonov, but for the most part there is no weaponry or any sort of alien present. That's what I think makes this film largely one of those that one doesn't forget after viewing. Another thing I liked about what these two said about the film is the relationship between Dave and HAL (the voice of Douglas Rain) and HAL and Chandra (Bob Balaban). It is rather touching in light of what happened with HAL in the first film. The only other gripe I think I have with this assessment are the hosts who say this film is better than Kubrick's. I say no. There can be no doubt how exceptional Kubrick's film is. It is a classic and a forerunner to many of the space operas out today. 2001: A SPACE ODYSSEY is without a doubt a rare film in how it portrays outer space and it's mysteries. In the hands of a lesser filmmaker, I'd have to say quite possibly 2001 might have de-evolved into something akin to The Blob or one of the many 50s style science fiction films that seemed to not take its subject seriously. All one has to do is look at Kubrick's artistry and realize it's place in the history of film. I believe it is if not the best film of all time. 2010: ODYSSEY TWO directed by Peter Hyams is a great film, no question. However, it's like comparing apples and oranges in that both filmmakers have different styles. The best thing about this film is Keir Dullea.
Filed Under: 2001: A SPACE ODYSSEY, 2010: Odyssey Two, CHARACTERS, Commander Dave Bowman, FILM, FILMS, KEIR DULLEA