Upcoming Projects
Film: Valley of the Gods
playing Ulim
Status: Pre-Production

..........................................................
Film: The Path
playing Stephen Meyer
Status: Return 25 January 2017

..........................................................
Film: April Flowers
playing Mr. X
Year: 2015
Status: Completed

..........................................................
Partner Site
Ex Libris/My Library





For my full collective, please go [ HERE ]
Affiliates
Meta
Tag Cumulus
Fan Listing
Linkback
To use, please right click then choose save picture as on a PC, or drag and drop or right-click (if you've got a two-button mouse) or Ctrl-click (hold down the "Ctrl" key and then click) on the image and then select "Save Image to Desktop" on a MAC. This site does not allow hotlinking.








FOR MORE SELECTIONS, CLICK [ HERE ]
Site Info/Disclaimer/Donate
ODYSSEY ~ KEIR DULLEA ONLINE @ keirdullea.org
is a website dedicated to the work of American actor Keir Dullea. I am in no way affiliated with his person, his management, nor his family. All content, except otherwise noted, is copyrighted to their original owners and no infringement is intended and no rights implied. Content contained within are subject to
fair use
and used here either in whole or in part as a commentary on the work and career of Keir Dullea.

Jul.
13th,
2015

New Layout

Posted By: keir dullea online | No Comments
Well, as you can see I finally have a new layout on both the main site and gallery. Thanks so much to Christine @ pinkchaos. Without her I wouldn't have been able to get this done. She took what I was thinking, and made it better. Thanks so very much Chrissy for all your work. I'm sure Keir will appreciate your time and effort. I thought I'd go with a now/then motif. Keir as he looks today (and I know there will be some who'll hate the beard …. I'm looking at you Megan) and a bit of a nostalgia feel on the gallery. I hope you like what I chose to go with. Updates will begin soon. I'm still in the process of getting those images sorted and tagged. They'll be coming this week. I promise. I may have some more tweaks to do but for the most part the layout is complete. Also, you may have noticed something new in the sidebar. That would be a link to a site I've created for Keir's 2001: A SPACE ODYSSEY co-star Gary Lockwood. Click on the link to go there. The reason for the site is that in the collection of images for this site, I've collected a lot of Gary. Therefore I thought I'd create a site for him. I'm not sure how big it'll get, my main priority is Keir's, but whatever I get of Gary will go in there. So there you have it.
Filed Under: 2001: A SPACE ODYSSEY, FILMS, Gallery, KEIR DULLEA, SITE
Jul.
9th,
2015

Happy Birthday 2015 Mia

Posted By: keir dullea online | No Comments
On behalf of ODYSSEY I'd like to wish Keir's lovely wife Mia Dillon the happiest of days. Today she celebrates her birthday and I'm hoping she has a wonderfully relaxing day with Keir and celebrates with a good bottle of wine, cake and beloved ones. Happy Birthday Mia.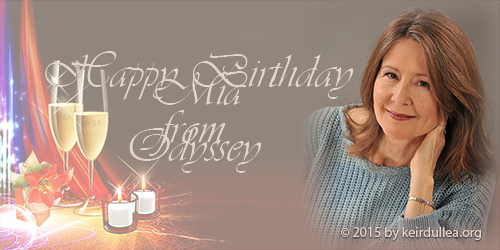 Filed Under: KEIR DULLEA, Mia Dillon, ODYSSEY
May.
30th,
2015

Happy 79th Birthday Keir

Posted By: keir dullea online | 2 Comments
On behalf of ODYSSEY, I'd like to wish Keir the happiest of birthdays. He turns a ripe and spry 79 today and it is my deepest wish for a day full of happiness and joy. Here's to a huge cake, a vintage bottle of wine and the love of family and friends.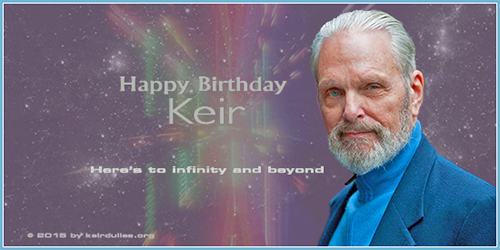 Filed Under: KEIR DULLEA, Mia Dillon, ODYSSEY
Mar.
18th,
2015

New Updates and Layout Coming Soon

Posted By: keir dullea online | No Comments
I'm currently working on a huge gallery update including stills from Keir's films, television work, stage and events from 1968 straight through to present. Those updates will be rolled out slowly so you can get a good look at what there is. Some of these photos are very rare finds and it has been my pleasure to collect them from various photo sources and bring them to you. I also have a new layout for both the main site and the gallery that will be up within the next two to three weeks, that is if I can finally get some things to work out. These images total about 500. I know compared to the amount of images in the gallery so far that figure might be somewhat low, however, a lot of these are rarities and are of a high resolution, unlike a lot of the screencaps from Keir's work that are in medium quality. So I'm hoping that you stay tuned.
Filed Under: KEIR DULLEA, ODYSSEY
Feb.
14th,
2015

Site Update Coming

Posted By: keir dullea online | No Comments
I know there haven't been any significant updates in the last little while, but I've had a whole host of computer issues where I thought I'd lost all my photo files. Fortunately that didn't happen or else I'd have to be committed to the nearest Happy Hilton. Yep, straightjacket and all. I'm in the process of creating a new layout. I'm also about to obtain over 100 images of Keir including event images, stills from some of his stage work, and a ton of stills from his various film projects…. That is if my source can come through for me…. I also have a lot of scans I've yet to add to the gallery. Please be patient as it will take me a bit of time to complete everything. Thanks for understanding and for continuing to visit. You'll be rewarded soon.
Filed Under: KEIR DULLEA, ODYSSEY