Upcoming Projects
Film: HBO'S Fahrenheit 451
playing The Historian
Status: Post-Production

..........................................................
Film: Valley of the Gods
playing Ulim
Status: Pre-Production

..........................................................
Film: The Path
playing Stephen Meyer
Status: Return 25 January 2017

..........................................................
Film: April Flowers
playing Mr. X
Year: 2015
Status: Completed

..........................................................
Keir Dullea Appearances
Meta
Site Info/Disclaimer/Donate
WEBMASTER: Dianne
CONTACT: [ HERE ]
LAYOUT: Samskara Impressions
ONLINE SINCE: 01 JANUARY 2012
BEST VIEWED ON: Mozilla Firefox
RESOLUTION: 1024 X 768 or better
ODYSSEY ~ KEIR DULLEA ONLINE @ keirdullea.org
is a website dedicated to the work of American actor Keir Dullea. I am in no way affiliated with his person, his management, nor his family. All content, except otherwise noted, is copyrighted to their original owners and no infringement is intended and no rights implied. Content contained within are subject to
fair use
and used here either in whole or in part as a commentary on the work and career of Keir Dullea.
I have a review of Keir and Mia from their most recent production of ON GOLDEN POND from the perspective of a fan attending the performance. I was given permission to post this from Nichole Clay, a member of the Keir Dullea Appreciation Society Facebook Page.
The stage adaptation of Ernest Thompson's "On Golden Pond" was a real treat at the legendary Bucks County Playhouse. The legendary drama takes place at a summer house near the pond in Maine where a older couple regularly vacations for four months.

Here, we are introduced Norman Thayer, portrayed by Keir Dullea, a retired English professor whose experiencing slightly memory loss and being fearless of approaching an untimely death. His wife, Ethel, played by Dullea's real life wife and collaborator Mia Dillon is a cheerful, positive, and long-suffering wife who is honestly devoted to her pessimistic husband.

At beginning of the play when Keir enters the stage as Norman Thayer, the audience applauded. His Norman Thayer's character come alive: his outspokenness, crankiness and especially his frequent sarcasm was out there. Everything from being lazy to fix the broken screen door to looking at the classifieds in the newspaper. And Dillon's character Ethel was full of life with calm and sweetness, even with the scenes of her childhood doll named Elmer. The couple, who had been acting together for sixteen years on stage and occasionally in independent films, have a strong stage chemistry that I admire. They brought Norman and Ethel in their own way.

For the first time after closely rolling Keir Dullea's acting career in film and television, especially legendary known as Commander David Bowman in Stanley Kubrick's "2001: A Space Odyssey" and playing characters that are troubled, chauvinistic, devilish, earthly and mostly sophisticated, I ever seen him in a sarcastic and humor character, a range that he never given a chance in the film and TV media. Mia, for her role as Ethel was serene, positive and filled with devotion. I admired the reconciliation of Norman and his estranged daughter and enjoyed the new found relationship of Norman and his daughter's stepson Billy Ray, Jr., one of my favorite scenes in the play. Norman ends up becoming close to his new stepson, even picking up slangs from the teen boy.The ending was very touching between Keir and Mia's characters when the main character encounters a "false" health scare, even they share a kiss before going outside to look at the pond at their summer home.

From the beginning to the end, "On Golden Pond" was a marvelous play with a excellent direction, a great cast and a fantastic stage that brought to life.

Nichole
Thank you Nichole for such a wonderful review and experience.
Filed Under: CHARACTERS, KEIR DULLEA, Mia Dillon, Norman Thayer Jr., On Golden Pond, THEATRE, THEATRE
After what seemed like an interminable amount of time, I've finally uploaded all of Keir's event images to the gallery. In what should have taken me about two hours to complete, has taken me about a week and two days of trying to figure out what was wrong. Turns out I had massive server errors and a whole host of other issues that would sink the Titanic umpteen times over. So here are finally the event uploads I promised an eon ago. I'm not even going to list them all here like I usually do. That would take just as long to list as it did to get them into the gallery. I'm going to use one photo and link that to the section of the gallery, if that's okay with you? Tough, it's the way I'm going to do it. Enjoy.
Filed Under: KEIR DULLEA
Jul.
16th,
2015

New Article :: "On Golden Pond"

Posted By: keir dullea online | No Comments
Another article where Keir talks about the aspects of theatre.
Real-life couple brings 'On Golden Pond' to the stage

By Rita Charleston

A real-life married couple since 1999, Keir Dullea and Mia Dillon have worked together several times before on stage, sometimes playing spouses, sometimes not. Now they're taking on another husband/wife role as Norman Thayer and Ethel Thayer in Ernest Thompson's "On Golden Pond," playing at the Bucks County Playhouse now through Aug. 2.

The play begins as summer warms Golden Pond, the beautiful lake where Ethel and Norman have spent 48 summers. This year, their tranquil plans are turned upside down when their daughter and her new boyfriend arrive to drop his teenage son off for the summer. This play is all about growing up, growing older and learning to manage the ties that bind.

"This is about the eighth time Mia and I have worked together and we love it," says Dullea. "Because we are husband and wife, as actors we have much more to draw on because we already have that relationship. The last time we played husband and wife was when we did Big Daddy and Big Mamma in 'Cat on a Hot Tin Roof.' "

And now the duo, both with ties to our area, ( Dullea attended The George School in Newtown, Bucks County, and Dillon went to high school in Newtown Square, Delaware County) are gearing up for this iconic play.

In the 1981 film, Henry Fonda played the role of Norman Thayer., but Dullea prefers to be his own man in the role. "I saw the film when it originally came out, but I prefer to find my own way, and do what I feel is right for the role. I think the temptation is to go a bit soft with the character because on the surface Norman comes across as a bit grouchy. But actually he's a very pleasant man, a retired professor, and has a lot of things going for him which makes him very interesting."

Dullea himself has a very interesting past. Raised in New York City where his parents ran a bookstore, he attended Rutgers University and San Francisco State University before deciding to pursue an acting career.

Since 1957, he has appeared in more than 25 feature films, including "David and Lisa" (winner of the 1963 Golden Globe award: "New Star of the Year") and "2001 A Space Odyssey" among others. He has made more than 50 guest appearances on television series, appeared on Broadway and London's West End, as well as numerous regional theaters.

"I love exploring a role, and each time you do it you have the opportunity to get it just right, although you never arrive at the place where you think you've got it just right, where you feel confident. But, as actors, we keep trying."

Bucks County Playhouse is on South Main Street in New Hope. For tickets, call 215-862-2121 or check www.bcptheater.org.

SOURCE
Filed Under: CHARACTERS, KEIR DULLEA, Mia Dillon, Norman Thayer Jr., On Golden Pond, THEATRE, THEATRE
Another article on Keir and Mia's play ON GOLDEN POND currently playing at the Bucks County Playhouse in New Hope, Pennsylvania. The article is all about how Keir and Mia work together as both husband and wife and as fellow thespians.
Theater: 'On Golden Pond' at Bucks County Playhouse

By Ted Otten | For The Times of Trenton
on July 15, 2015 at 7:00 AM, updated July 15, 2015 at 7:08 AM
0

Reddit

Traditions, like Ethel and Norman Thayer spending their summers at their cottage on Golden Pond in Maine, are sometimes abandoned or altered by the forces of both man and nature as the lead characters in Ernest Thompson's "On Golden Pond," directed by Jonathan Silverstein, now playing at New Hope's Bucks County Playhouse through August 2, discover during the five months that it takes this touching play to happen.

Norman retired not long ago from his teaching job at a university, a job that allowed the Thayers the luxury of their long summer holidays, but Norman is getting on in years and some things about daily life are more difficult and troublesome than they used to be. Many of his contemporaries and colleagues have passed away, and he no longer has the intellectual stimulation of the classroom. Fortunately, he has Ethel, a patient and understanding wife. Although the couple had lost contact with their only daughter Chelsea, she suddenly arrives with her fiancé and his precocious son. For many reasons, this year's vacation will be different whether they want those changes or not.

Playing the Thayers in New Hope are real-life married couple Mia Dillon and Keir Dullea who have worked both separately and together before and after their marriage in 1999 on stage and screen although they much prefer working together these days especially with roles like the Thayers being offered to them.

Both actors have local connections. Dullea attended the George School in Newtown and spoke highly of their theatre department which he said was where his first inklings of becoming an actor began. Dillon graduated from Marple-Newtown Senior High in Newtown Square, but they didn't meet until they both appeared in a play directed by Dullea's wife, Suzie Fuller, who died in 1998.

Since the play is new to them, Dillon and Dullea appreciated the fact that they were constantly together beyond the all-too-brief time of their stage rehearsals and could discuss their characters whenever a new idea came to them although Dullea credits director Silverstein with many insights into the complex character who is Norman Thayer.

"If you need a classification for this play, I'd say it's a serious comedy, but Norman has far more depth, deeper recesses, more corners than most comedy characters have. He has the kind of wit that some people find caustic, and often his attitude is taken far too seriously by others," said Dullea who is only a year younger than the character he plays but has not experienced Norman's problems with memory loss and disorientation.

"Norman is a little harder to live with than Keir," said Dillon who spoke while Dullea was deciding his answer to the difficult question, "Do you like Norman as a person?"

Dullea isn't sure he likes Norman, but he respects him, and Dullea said, "Norman uses intellectual things like puns and word play as a smoke screen because Norman is a man who doesn't show his real emotions very often. Perhaps he isn't comfortable with them. Chelsea is not at all like her father in that way, and this is part of their incompatibility and why they have been out of contact all these years."

Dillon sees Ethel as a compassionate and practical woman who's more aware and more intelligent than most people, perhaps including Norman, have realized.

"Norman teases because he cares," said Dillion, "and Ethel has learned to accept that approach and live with it, but Chelsea is different from her mother. Some people choose to show love by teasing, and Norman is one of those people. But that can be a tricky thing. It can be very funny to a third person or a bystander, but it may be heard as being cruel by the person to whom it is directed.

"Ethel's mother-daughter relationship with Chelsea is not that of best friends, and I don't think that Ethel realizes how hurt Chelsea has been and how often by Norman's teasing and his remarks that Chelsea perceives as being cutting. Ethel would have a more practical outlook on things and say 'Get over it!' and mean it , not in a frivolous way but in a way that shows her practicality and that she realizes that people have to just pick up and get on with their lives."

Both Dillon and Dullea are enthusiastic about Thompson's play, but they harbor a desire to return to the Tennessee Williams' classic "Cat on a Hot Tin Roof." They recently did a revival at the Provincetown Tennessee Williams Festival in which Dullea, who had played Brick in the play's first Broadway revival in 1974, played the commanding Big Daddy and Dillon played his long suffering wife, Big Mama Pollitt.

"On Broadway with Elizabeth Ashley as Maggie the Cat, I had a superb example of characterization by Fred Gwynne who played Big Daddy. It's such a shame that people remember him only as Herman Munster, but he was a meticulous, classically trained actor who dug into his characterization with both hands because he saw that the character was worth probing," said Dullea.

"I think Norman is that kind of character too."

IF YOU GO

"On Golden Pond"

Where: Bucks County Playhouse, 70 South Main Street, New Hope, Pa.

When: through August 2; Tuesday & Thursday at 7:30 p.m. Friday and Saturday at 8 p.m.; matinees on Wednesday, Thursday, Saturday and Sunday at 2 p.m.

How much: Tickets are $29 – $85.

Contact: 215-862-2121 or online at .

SOURCE
Filed Under: CHARACTERS, KEIR DULLEA, Mia Dillon, Norman Thayer Jr., On Golden Pond, THEATRE, THEATRE
Jul.
13th,
2015

New Layout

Posted By: keir dullea online | No Comments
Well, as you can see I finally have a new layout on both the main site and gallery. Thanks so much to Christine @ pinkchaos. Without her I wouldn't have been able to get this done. She took what I was thinking, and made it better. Thanks so very much Chrissy for all your work. I'm sure Keir will appreciate your time and effort. I thought I'd go with a now/then motif. Keir as he looks today (and I know there will be some who'll hate the beard …. I'm looking at you Megan) and a bit of a nostalgia feel on the gallery. I hope you like what I chose to go with. Updates will begin soon. I'm still in the process of getting those images sorted and tagged. They'll be coming this week. I promise. I may have some more tweaks to do but for the most part the layout is complete. Also, you may have noticed something new in the sidebar. That would be a link to a site I've created for Keir's 2001: A SPACE ODYSSEY co-star Gary Lockwood. Click on the link to go there. The reason for the site is that in the collection of images for this site, I've collected a lot of Gary. Therefore I thought I'd create a site for him. I'm not sure how big it'll get, my main priority is Keir's, but whatever I get of Gary will go in there. So there you have it.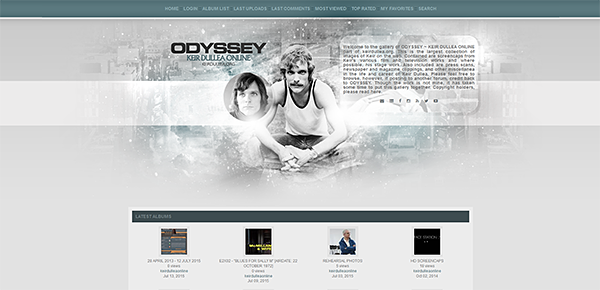 Filed Under: 2001: A SPACE ODYSSEY, FILMS, Gallery, KEIR DULLEA, SITE