Upcoming Projects
Film: HBO'S Fahrenheit 451
playing The Historian
Status: Post-Production

..........................................................
Film: Valley of the Gods
playing Ulim
Status: Pre-Production

..........................................................
Film: The Path
playing Stephen Meyer
Status: Return 25 January 2017

..........................................................
Film: April Flowers
playing Mr. X
Year: 2015
Status: Completed

..........................................................
Partner Site
Keir Dullea Appearances
Ex Libris/My Library





For my full collective, please go [ HERE ]
Affiliates
Meta
Fan Listing
Linkback
To use, please right click then choose save picture as on a PC, or drag and drop or right-click (if you've got a two-button mouse) or Ctrl-click (hold down the "Ctrl" key and then click) on the image and then select "Save Image to Desktop" on a MAC. This site does not allow hotlinking.








FOR MORE SELECTIONS, CLICK [ HERE ]
Site Info/Disclaimer/Donate
ODYSSEY ~ KEIR DULLEA ONLINE @ keirdullea.org
is a website dedicated to the work of American actor Keir Dullea. I am in no way affiliated with his person, his management, nor his family. All content, except otherwise noted, is copyrighted to their original owners and no infringement is intended and no rights implied. Content contained within are subject to
fair use
and used here either in whole or in part as a commentary on the work and career of Keir Dullea.
Another article on Keir and Mia's play ON GOLDEN POND currently playing at the Bucks County Playhouse in New Hope, Pennsylvania. The article is all about how Keir and Mia work together as both husband and wife and as fellow thespians.
Theater: 'On Golden Pond' at Bucks County Playhouse

By Ted Otten | For The Times of Trenton
on July 15, 2015 at 7:00 AM, updated July 15, 2015 at 7:08 AM
0

Reddit

Traditions, like Ethel and Norman Thayer spending their summers at their cottage on Golden Pond in Maine, are sometimes abandoned or altered by the forces of both man and nature as the lead characters in Ernest Thompson's "On Golden Pond," directed by Jonathan Silverstein, now playing at New Hope's Bucks County Playhouse through August 2, discover during the five months that it takes this touching play to happen.

Norman retired not long ago from his teaching job at a university, a job that allowed the Thayers the luxury of their long summer holidays, but Norman is getting on in years and some things about daily life are more difficult and troublesome than they used to be. Many of his contemporaries and colleagues have passed away, and he no longer has the intellectual stimulation of the classroom. Fortunately, he has Ethel, a patient and understanding wife. Although the couple had lost contact with their only daughter Chelsea, she suddenly arrives with her fiancé and his precocious son. For many reasons, this year's vacation will be different whether they want those changes or not.

Playing the Thayers in New Hope are real-life married couple Mia Dillon and Keir Dullea who have worked both separately and together before and after their marriage in 1999 on stage and screen although they much prefer working together these days especially with roles like the Thayers being offered to them.

Both actors have local connections. Dullea attended the George School in Newtown and spoke highly of their theatre department which he said was where his first inklings of becoming an actor began. Dillon graduated from Marple-Newtown Senior High in Newtown Square, but they didn't meet until they both appeared in a play directed by Dullea's wife, Suzie Fuller, who died in 1998.

Since the play is new to them, Dillon and Dullea appreciated the fact that they were constantly together beyond the all-too-brief time of their stage rehearsals and could discuss their characters whenever a new idea came to them although Dullea credits director Silverstein with many insights into the complex character who is Norman Thayer.

"If you need a classification for this play, I'd say it's a serious comedy, but Norman has far more depth, deeper recesses, more corners than most comedy characters have. He has the kind of wit that some people find caustic, and often his attitude is taken far too seriously by others," said Dullea who is only a year younger than the character he plays but has not experienced Norman's problems with memory loss and disorientation.

"Norman is a little harder to live with than Keir," said Dillon who spoke while Dullea was deciding his answer to the difficult question, "Do you like Norman as a person?"

Dullea isn't sure he likes Norman, but he respects him, and Dullea said, "Norman uses intellectual things like puns and word play as a smoke screen because Norman is a man who doesn't show his real emotions very often. Perhaps he isn't comfortable with them. Chelsea is not at all like her father in that way, and this is part of their incompatibility and why they have been out of contact all these years."

Dillon sees Ethel as a compassionate and practical woman who's more aware and more intelligent than most people, perhaps including Norman, have realized.

"Norman teases because he cares," said Dillion, "and Ethel has learned to accept that approach and live with it, but Chelsea is different from her mother. Some people choose to show love by teasing, and Norman is one of those people. But that can be a tricky thing. It can be very funny to a third person or a bystander, but it may be heard as being cruel by the person to whom it is directed.

"Ethel's mother-daughter relationship with Chelsea is not that of best friends, and I don't think that Ethel realizes how hurt Chelsea has been and how often by Norman's teasing and his remarks that Chelsea perceives as being cutting. Ethel would have a more practical outlook on things and say 'Get over it!' and mean it , not in a frivolous way but in a way that shows her practicality and that she realizes that people have to just pick up and get on with their lives."

Both Dillon and Dullea are enthusiastic about Thompson's play, but they harbor a desire to return to the Tennessee Williams' classic "Cat on a Hot Tin Roof." They recently did a revival at the Provincetown Tennessee Williams Festival in which Dullea, who had played Brick in the play's first Broadway revival in 1974, played the commanding Big Daddy and Dillon played his long suffering wife, Big Mama Pollitt.

"On Broadway with Elizabeth Ashley as Maggie the Cat, I had a superb example of characterization by Fred Gwynne who played Big Daddy. It's such a shame that people remember him only as Herman Munster, but he was a meticulous, classically trained actor who dug into his characterization with both hands because he saw that the character was worth probing," said Dullea.

"I think Norman is that kind of character too."

IF YOU GO

"On Golden Pond"

Where: Bucks County Playhouse, 70 South Main Street, New Hope, Pa.

When: through August 2; Tuesday & Thursday at 7:30 p.m. Friday and Saturday at 8 p.m.; matinees on Wednesday, Thursday, Saturday and Sunday at 2 p.m.

How much: Tickets are $29 – $85.

Contact: 215-862-2121 or online at .

SOURCE
Filed Under: CHARACTERS, KEIR DULLEA, Mia Dillon, Norman Thayer Jr., On Golden Pond, THEATRE, THEATRE
Jul.
13th,
2015

Keir & Mia "On Golden Pond"

Posted By: keir dullea online | No Comments
Another interview with Keir and Mia regarding their play ON GOLDEN POND at the Bucks Playhouse.
Research Through Living: Keir Dullea and Mia Dillon are starring in 'On Golden Pond' at the Bucks Playhouse

Actors do a lot of things in order to play a role. They memorize lines, rehearse, think about their character's motives, and discuss the play with the director, the writer when possible and their fellow actors.

In playing the part of Norman Thayer in Ernest Thompson's 1979 play, On Golden Pond, Keir Dullea has found another way to connect to his character. In the play, Norman is an 80-year-old man, dealing with several issues, including his strained relationship with his daughter, Chelsea, and memory loss. And Mr. Dullea says part of his preparation for the part simply involved getting older.

"I'm not very far from the age of this character," says the 79-year-old Mr. Dullea. "I'm not trying to play old, I just play me because the age is about right. I don't have Alzheimer's and I don't have serious memory loss but both my wife and I have had the experience of going upstairs, reaching the top and saying 'What did I come up here for.' A couple of times a week, I go from one room to another and can't remember what the hell I came in for. So that's useful."

Mr. Dullea and his wife, Mia Dillon, are starring as Norman and Ethel in a production of On Golden Pond to be staged at Bucks County Playhouse in New Hope, Pennsylvania, July 10 to Aug. 2. In the play, Norman and Ethel are settling down for the summer at their vacation home when they get a letter from their daughter, Chelsea (Christa Scott-Reed), saying she'll be arriving to celebrate Norman's birthday. She brings her boyfriend, Bill Ray (Don Noble) and his teenage son Billy (Cameron Clifford). The play explores the relationships between Norman and Ethel, Norman and his daughter, and Norman and Billy, who ends up spending the summer with the older couple.

On Golden Pond debuted on Broadway in 1979. It was adapted into a 1981 movie starring Henry Fonda and Jane Fonda, marking the only time that father and daughter appeared in a film together. It also won Mr. Fonda his only Oscar, and Katharine Hepburn her fourth. It was revived on Broadway in 2005 with James Earl Jones and Leslie Uggans.

"It's a play that has a lot of surprising depth," says Mr. Dullea, who is best-known for playing David Bowman in 2001: A Space Odyssey. "It has its funny side, if you're going to describe it with one word, it's a kind of comedy, but it has a lot of subtext in it that's very interesting to explore."

Mr. Dullea says he and Ms. Dillon have acted together about 10 times, and have played husband and wife a few times.

"We've been together 17 years, married 16," he says. "A week after we got married, we were cast in a touring company of Deathtrap, in which I got to kill her off each night. More recently, two years ago at the Tennessee Williams Theater Festival (in New Orleans), we played Big Daddy and Big Mama in 'Cat on a Hot Tin Roof.'"

That production of Cat on a Hot Tin Roof was special for him because he played Brick in a Broadway revival of the play in 1974.

"I always wanted to play (Big Daddy), but never thought I'd ever get cast, so to get cast and then play it opposite my wife was a special treat," he says. "We love working together."

The couple in On Golden Pond is one that has stayed together and is indeed prepared to die together, not that that they don't have issues.

"Even in the most perfect relationships, there are certain kinds of abrasive things that happen with any couple, and that makes it even more real," Mr. Dullea says. "If it was all just hearts and flowers, it would be kind of dull. And part of the drama of this is, in spite of everything, they do love each other. You find that out by the end of the play. You see that as the play progresses but you also see there's stuff between the characters."

Performing at the Bucks County Playhouse marks something of a homecoming for Mr. Dullea, because as a child he attended the George School in Newtown.

"When I arrived at that school, I thought I had died and gone to heaven," he says, adding that George School was where he started acting.

"I didn't know it then, but probably the seed was planted that resulted in my becoming an actor," he says. "George School had an unusually heightened drama program that you could take separate from the junior class play, or the senior class play. You could take drama as a half-unit subject, and we explored (John) Galsworthy and (George) Bernard Shaw and (William) Saroyan, and we did acting exercises.

"And I loved it, but it never occurred to me that someone would pay you to have fun. So it never occurred to me to become an actor. But looking back on it I realize that really is where the seed was planted that later on resulted on in my deciding to be an actor."

On Golden Pond will be at the Bucks County Playhouse, 70 S. Main St., New Hope, Pennsylvania, July 10-Aug. 2. For more information, go to www.bcptheater.org or call 215-862-2121.
Filed Under: CHARACTERS, KEIR DULLEA, Mia Dillon, Norman Thayer Jr., On Golden Pond, THEATRE, THEATRE
Jul.
9th,
2015

Happy Birthday 2015 Mia

Posted By: keir dullea online | No Comments
On behalf of ODYSSEY I'd like to wish Keir's lovely wife Mia Dillon the happiest of days. Today she celebrates her birthday and I'm hoping she has a wonderfully relaxing day with Keir and celebrates with a good bottle of wine, cake and beloved ones. Happy Birthday Mia.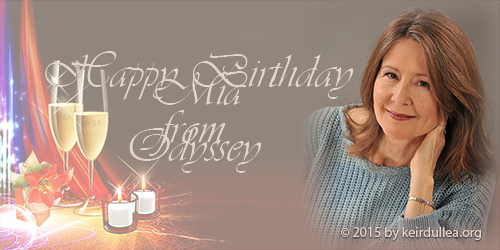 Filed Under: KEIR DULLEA, Mia Dillon, ODYSSEY
Another article on Keir and Mia's upcoming performance in ON GOLDEN POND.
Side by side, Keir Dullea and Mia Dillon take the stage

David Patrick Stearns, Inquirer Classical Music Critic
Posted: Sunday, July 5, 2015, 3:01 AM

NEW YORK – When the call came to do On Golden Pond together at Bucks County Playhouse, Keir Dullea and Mia Dillon asked each other, "Why didn't we ever think of that?"

Though best known for his role in 2001: A Space Odyssey or his early turn in David and Lisa, Dullea and his wife (since 1999) Dillon lately have been working through the slim but often prestigious body of plays with great roles for actors over that draconian cutoff age, 40.

Dillon, 59, who plays Ethel, is far enough away from her ingenue days that she retrained for a side career in acupuncture when roles started slowing down. Dullea, 79, is the same age as Norman, his character – one of the largest and more complicated roles of his career, a crusty, retired college professor facing heart trouble and failing memory as he turns 80. Rehearsals for the three-week run that begins Friday at the New Hope theater are a scant two weeks.

"This is our eighth gig together," says Dullea. But by the end of the interview, the count was up to 12, given how often one or the other said, "Oh yes, we also did that."

The important thing is that, while shows might have been forgotten, lines weren't. Dullea worked on the play for two months before rehearsals began, determined to be "off-book" on the first day, allowing him to concentrate on higher matters.

Neither Henry Fonda nor Katharine Hepburn, who starred in the 1981 film version and won Oscars, cast long shadows on them. "Every script you get . . . it's yours and nobody else's," said Dullea.

"You can have chemistry with different chemicals," added Dillon. "This play [by Ernest Thompson] has been around since 1979, and has been done all over the world, and was a major movie. There's a reason. This pond is deep."

Just as Lynn Fontanne and Alfred Lunt were known to be stronger than the sum of their parts, Dillon and Dullea help each other as only fellow actors can, whether running lines or just empathizing with each other's process. Perhaps that's one reason both seem to be in their primes, discovering roles in plays likeTennessee Williams' Cat on a Hot Tin Roof that might have seemed beyond them in years past but turned into triumphs. That's not to downplay their higher-profile glory years – especially because those periods were so interesting.

Born in Colorado and raised in Newtown Square, Dillon had her share of big-award nominations for provocative plays such as Once a Catholic and Crimes of the Heart, plus TV credits that include Mary and Rhoda as well as Law & Order and its various offshoots.

Dullea, who grew up in New York City but was educated at Bucks County's George School, was cast in films as disturbed and disturbing individuals (the Marquis de Sade, for one), even if his less-demanding astronaut turn in 2001: A Space Odyssey is the role for which he is best known. "You could do a lot worse," he says.

Some of his headier assignments were also the least pleasant, such as 1965's Bunny Lake Is Missing, in which he played opposite Sir Laurence Olivier but had to endure merciless bullying from director Otto Preminger as well as the frustration of sharing a film with the great Noel Coward but having no scenes with him. Dullea nevertheless insisted on meeting Coward, who immediately delivered what sounds like an insulting quip: "Keir Dullea, gone tomorrow."

But Dullea was flattered, noting, "How many people have a quote from such a man?"

Both he and Dillon feel that their good old days are now. Many stage actors are living on borrowed time after 70 due to memory issues and vocal decline. Some implode from the wear and tear of always going where the work is. But Dullea has worked fairly constantly, fondly recalling summer theaters in one-stoplight towns in Ohio. He looks terrific – certainly better than those late scenes in 2001: A Space Odyssey, in which he aged all the way to his deathbed. He often bicycles 20 miles a day near his home in Fairfield, Conn. You can see him these days on the towpath trails in New Hope.

The subtly radiant Dillon casually quotes the Dalai Lama and sees important parallels between acting and acupuncture. "Both of them, I believe, are about healing," she said. "In the theater, the shared communion of stories, when you're laughing and crying as a group. . . . That's what I love about the theater, that feeling of connection."

"In serious sections," said Dullea, "there's what I call 'the roar of silence' from the audience. The attention, the connection is palpable. I can't explain it, but it's there."

Carrying that sense of connection offstage is perhaps crucial. "There's almost a period of mourning after a play, for the family that you gathered together and that incredible energy that you had onstage," Dillon said. "The work is emotionally intense and then you have nothing. I can see how actors sink into alcohol and drugs. But if you have something spiritual – and it doesn't have to be religion – you still have a feeling of connectedness and being alive."

Such insights leave the two of them with little taste for sitcom-ish scripts – one reason why they happily went against type in Cat on a Hot Tin Roof two years ago when they played the aging Southern power couple in Provincetown.

Dullea says he momentarily failed to recognize Dillon in the part, so completely had she transformed herself into Big Mama with powers of illusion – and a matronly fat suit. "I have some steel magnolias . . . in my family," she says.

Dullea has little in common with portly Burl Ives, the most famous portrayer of Big Daddy. "But to me, it was the personal pinnacle of everything I've ever done in film, stage, or TV," he says. "I grew a long beard . . . and used a voice I'd never used, way down here. . . ." He says a few lines, and you hear what he means. They both want to do it again.

Something they won't touch is Who's Afraid of Virginia Woolf? Though they had success in Edward Albee's A Delicate Balance (playing the secondary, non-warring couple), they won't take on the playwright's better-known piece for fear of ruining their marriage.

"People who play Martha and George, even if they're friends to start with, there's a rift in their relationship," says Dillon. "There's something about the cruelty of the play that changes their relationship."

Other actors might simply wait at home for the Big Phone Call to come, offering something like the film version of Driving Miss Daisy. Not Dullea: "I've had those calls already."

---

TWO FOR THE SHOW

On Golden Pond

Friday through Aug. 2 at Bucks County Playhouse, 70 S. Main St., New Hope.

Tickets: $29-$85. Information: 215-862-2121 or bcptheater.org
SOURCE
Filed Under: CHARACTERS, KEIR DULLEA, Mia Dillon, Norman Thayer Jr., On Golden Pond, THEATRE, THEATRE