Upcoming Projects
Film: HBO'S Fahrenheit 451
playing The Historian
Status: Post-Production

..........................................................
Film: Valley of the Gods
playing Ulim
Status: Pre-Production

..........................................................
Film: The Path
playing Stephen Meyer
Status: Return 25 January 2017

..........................................................
Film: April Flowers
playing Mr. X
Year: 2015
Status: Completed

..........................................................
Keir Dullea Appearances
Meta
Site Info/Disclaimer/Donate
WEBMASTER: Dianne
CONTACT: [ HERE ]
LAYOUT: Samskara Impressions
ONLINE SINCE: 01 JANUARY 2012
BEST VIEWED ON: Mozilla Firefox
RESOLUTION: 1024 X 768 or better
ODYSSEY ~ KEIR DULLEA ONLINE @ keirdullea.org
is a website dedicated to the work of American actor Keir Dullea. I am in no way affiliated with his person, his management, nor his family. All content, except otherwise noted, is copyrighted to their original owners and no infringement is intended and no rights implied. Content contained within are subject to
fair use
and used here either in whole or in part as a commentary on the work and career of Keir Dullea.
I just found this on that bastion of video…. And may I say it's one of the best discussions I've had the pleasure to listen to on 2001: A SPACE ODYSSEY. The video was from a discussion held in England back in April of this year where Keir, Gary (Frank Poole), scientist and astrophysicist Dr. Brian Cox, film historian Christopher Frayling and moderator Matthew Sweet talked about the film for the BFI (British Film Institute) film series. A fascinating talk where we get a more tunneled look into the film and Stanley Kubrick's motivations, plus some interesting insights about Arthur C. Clarke's view on the film. We are once again treated to Keir's favourite parts of the film in the scientific gobbeldy gook, as Keir calls it, he had to memorize for the one scene that was cut. Then his story of coming back into the Discovery via the air lock and the circus roustabout who had the rope, plus his cute way of imitating Derek Cracknell's version of the HAL-9000's voice as being a pseudo Michael Caine. I loved what they all said about the longevity of the film. My only wish is they'd gotten a little bit into Keir's reprisal of the part of Dave Bowman for the Peter Hyams film 2010: ODYSSEY TWO where the symbiosis of HAL and Dave was at the core of the film.
httpvh://youtu.be/fGthlslH6p8
Filed Under: 2001: A SPACE ODYSSEY, 2010: Odyssey Two, CHARACTERS, Commander Dave Bowman, FILM, FILMS, KEIR DULLEA
The title says it all. Recently the website DenofGeek compiled their list of the most under appreciated films of 1984. Included in that list were films like Repo Man, One Upon A Time In America, A Breed Apart, Brother From Another Planet and one other film from that year. Apparently they named 2010: THE YEAR WE MAKE CONTACT or ODYSSEY TWO as I call it as part of that list. They cited the fast paced directing of Peter Hyams and Roy Scheider (Dr. Heywood Floyd) as two of the main reasons the film is on that list. They also mention that the return of Keir as Dave Bowman and Douglas Rain as the voice of the HAL-9000. Read what they had to say on it.
5. 2010: The Year We Make Contact

When this sci-fi sequel was announced, many wondered aloud: does 2001: A Space Odyssey really need a sequel? Director Peter Hyams doesn't try to ape Stanley Kubrick's style of filmmaking, and opts instead for a faster paced approach more akin to a Cold War thriller than a sci-fi meditation on life, the universe, and everything. Roy Scheider stars as Dr. Floyd, a scientist who investigates the discovery of life on Europa, one of Jupiter's moons.

Hyams has a specific way of lighting and framing his movies that gives them an almost oppressive air of tension; where 2001's spaceship interiors were bathed in light, 2010's are dimly-lit and claustrophobic. It's of a piece with Outland, Hyams' underrated space western starring Sean Connery; cut off from society, blue skies and clean air, life in space is akin to a spell in prison.

The visual effects in 2010 were groundbreaking at the time, though less conspicuously so than those in 2001 – even then, audiences had become numbed to the sight of ships majestically orbiting planets – and they still hold up well today. With return appearances from Keir Dullea and Douglas Rain, the latter again providing the soothing voice of HAL, 2010's far better than its tepid reception suggested.
Filed Under: 2001: A SPACE ODYSSEY, 2010: Odyssey Two, CHARACTERS, Commander Dave Bowman, FILM, FILMS, KEIR DULLEA
Keir will be appearing at a screening of BUNNY LAKE IS MISSING in New York. The screening is being hosted by Foster Hirsch who wrote a book about the director of the film, Otto Preminger called The Man Who Would Be King, published 2006 by Knopf Publishing in both book and ebook form. Tickets are available for the screening. Click on the title below for more information. Keir played the part of Steven Lake. If you haven't seen the film, then I'm not going to spoil the ending.

Filed Under: Bunny Lake Is Missing, CHARACTERS, FILM, FILMS, KEIR DULLEA, Steven Lake
Jul.
13th,
2015

New Layout

Posted By: keir dullea online | No Comments
Well, as you can see I finally have a new layout on both the main site and gallery. Thanks so much to Christine @ pinkchaos. Without her I wouldn't have been able to get this done. She took what I was thinking, and made it better. Thanks so very much Chrissy for all your work. I'm sure Keir will appreciate your time and effort. I thought I'd go with a now/then motif. Keir as he looks today (and I know there will be some who'll hate the beard …. I'm looking at you Megan) and a bit of a nostalgia feel on the gallery. I hope you like what I chose to go with. Updates will begin soon. I'm still in the process of getting those images sorted and tagged. They'll be coming this week. I promise. I may have some more tweaks to do but for the most part the layout is complete. Also, you may have noticed something new in the sidebar. That would be a link to a site I've created for Keir's 2001: A SPACE ODYSSEY co-star Gary Lockwood. Click on the link to go there. The reason for the site is that in the collection of images for this site, I've collected a lot of Gary. Therefore I thought I'd create a site for him. I'm not sure how big it'll get, my main priority is Keir's, but whatever I get of Gary will go in there. So there you have it.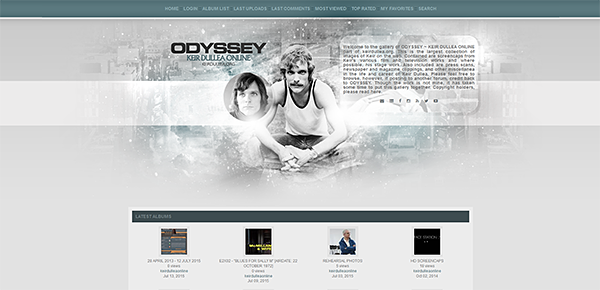 Filed Under: 2001: A SPACE ODYSSEY, FILMS, Gallery, KEIR DULLEA, SITE
According to a new article on SlashFilm.com, seventeen minutes of footage has been found from Stanley Kubrick's original cut of 2001: A SPACE ODYSSEY. The film was originally 160 minutes long, but for pacing reasons Kubrick cut it back to the length it is now. I for one would love to see a new home video release with the footage restored and two versions on the disc. Now there are some purists who will say to leave the film as it is, but why not allow Douglas Trumbull to restore the footage and let the critics speak. I'm always a fan of the longer version of any film. Sometimes when scenes are cut, for whatever reason, it may not be so good for the context of the film. For instance, in James Cameron's blockbuster Titanic, the scene where Rose (Kate Winslet) went to the stern of the ship to jump off and before Jack (Leonardo DiCaprio) met her, Cameron left out an integral scene where Rose after leaving the lounge where her mother and other women were gossiping about Rose's upcoming nuptials, with Rose sitting there almost catatonic. The scene entailed Rose returning to her stateroom where she begins tearing at the pins and combs in her hair, frantically trying to remove them. Then she also tries to get out of the corset she's been jammed into as with the convention of the time. The scene shows her frustration at not being able to fulfill her own destiny without the constraints on her sex. This scene for me would have added a little more gravitas the Rose's reasons for attempting to jump from the ship. Without the scene it just plays that she's this petulant little teenager. I'll be posting the article after the cut, but there is reportedly one scene where Moonwatcher (Dan Richter) is filmed at a low angle looking up at The Monolith clarifying the connection between the two. That would have been an integral scene to show The Monolith was definitely having an impact on the progression of the violence in the ape community and its influence on Moonwatcher. What I say is neither Eyes Wide Shut or AI: Artificial Intelligence are the films Kubrick meant for us to see. Eyes Wide Shut was edited further from Kubrick's original edit after his 1999 death. With AI: Artificial Intelligence Steven Spielberg certainly did not make the film Kubrick envisioned.
17 Minutes of Lost '2001: A Space Odyssey' Footage Found

Almost like discovering a monolith buried underground, Warner Brothers recently found 17 minutes of lost footage from Stanley Kubrick's masterpiece 2001: A Space Odyssey in a salt-mine vault in Kansas. But before you go and drop acid in anticipation of an extended cut of the film, consider the slippery slope this footage constitutes. One, just because the footage was found doesn't necessarily mean it's going to make it into the public eye. Two, Kubrick himself reportedly cut the footage from the film because he felt it created pacing issues. And three, the film is just about perfect as is, do you really want to screw it up?

Hit the jump for more details on the footage as well as what it might contain.

The Film Stage first alerted us to the news of this footage. They point us to a reports from Forgotten Silver and Blastr about an event in Toronto where Douglas Trumbull and David Larson, who were working on the now canceled documentary 2001: Beyond the Infinite: The Making of a Masterpiece, mentioned the footage had been found in perfect condition. Though they weren't sure what the plans for the footage are, they did show images of never before seen scenes that will be in an upcoming photo book. It was unclear if these images were from the found footage or not.

According the 2001 IMDB page, when the film premiered in 1968, it ran 160 minutes. Kubrick then went in and trimmed a good 19 minutes or so. It's assumed this would be the footage that was found in Kansas. Here's what the IMDB says was cut:

Some shots from the "Dawn of Man" sequence and a new scene was inserted where an ape pauses with the bone it is about to use as a tool. The new scene was a low-angle shot of the monolith, done in order to portray and clarify the connection between the man-ape using the tool and the monolith.
Some shots of Frank Poole jogging in the centrifuge.
An entire sequence of several shots in which Dave Bowman searches for the replacement antenna part in storage.
A scene where HAL severs radio communication between the "Discovery" and Poole's pod before killing him. This scene explains a line that stayed in the film in which Bowman addresses HAL on the subject.
Some shots of Poole's space walk before he is killed.

While none of that sounds particularly exciting, new Kubrick is new Kubrick and it would be pretty cool for this footage to make its way onto some sort of epic, mega Blu-ray release one day. Still, I don't know if I'd want to see it edited into the film. Kubrick cut it, why would anyone want to go against his wishes? But, if there is any money to be made from this footage, Warner's will surely find a way.

Do you think this footage should be released? Do you want to see it? Do you want to see it cut back into the movie?

SOURCE

Filed Under: 2001: A SPACE ODYSSEY, CHARACTERS, Commander Dave Bowman, FILM, FILMS, KEIR DULLEA